Doing things together is a real good idea. It is not a matter of one plus one is two but it adds up to much more!
I have known this for some time but what happens when you combine this principle with creativity? Then you get: COMMUNITY ART!
This year's project was all about making a Seascape wall art as a piece of community art. One wall in the new Family & Child Centre of Inspiratie Inc in Almere,  Akwaaba, will be the lucky one.
The seascape theme was easily decided, as Almere is founded on reclaimed land. Reclaimed from the once Zuiderzee - now fresh water lake IJsselmeer. The main colour in this specific room in Akwaaba will be blue.
I made a design for the Seascape keeping in mind that I wanted many people to contribute with different textile materials and techniques on different hours and places. It was not difficult to find the people, as Inspiratie Inc is a whole community, but it was kind of a challenge to get them involved. Luckily the whole project got a boost on a few occasions.
For instance: In early spring a big group of young volunteers from all over the world came to Inspiratie Inc to help plant trees, but the ground was frozen…. So I got them felting circles in blues, turquoises and purples. For most of these young men and women it was the first time ever to work with raw wool and wet-felting technique, and they made beautiful circles!
On several occasions we got children and adults to create beautiful fish and other sea inhabitants knotting around metal thread with colorful textile yarn.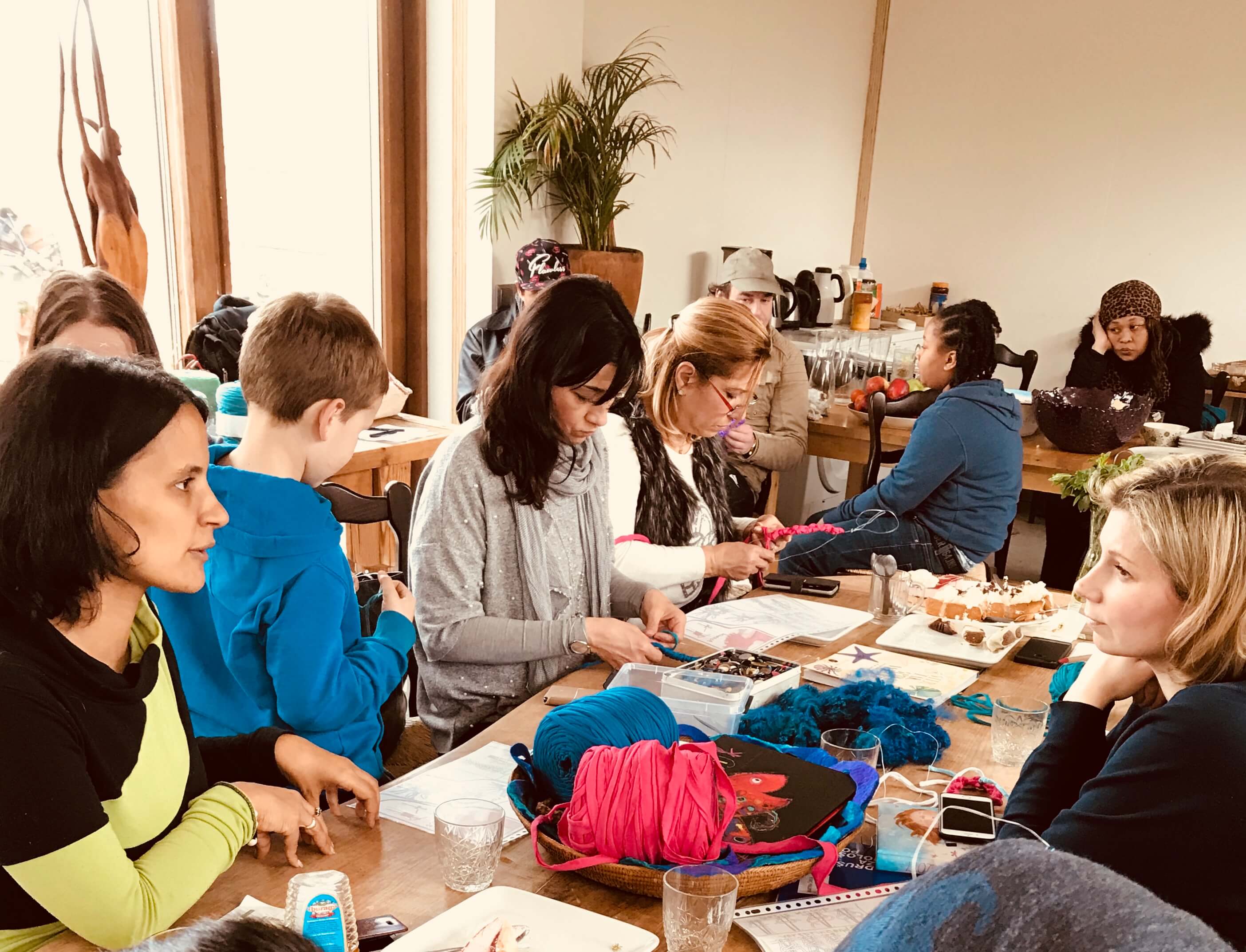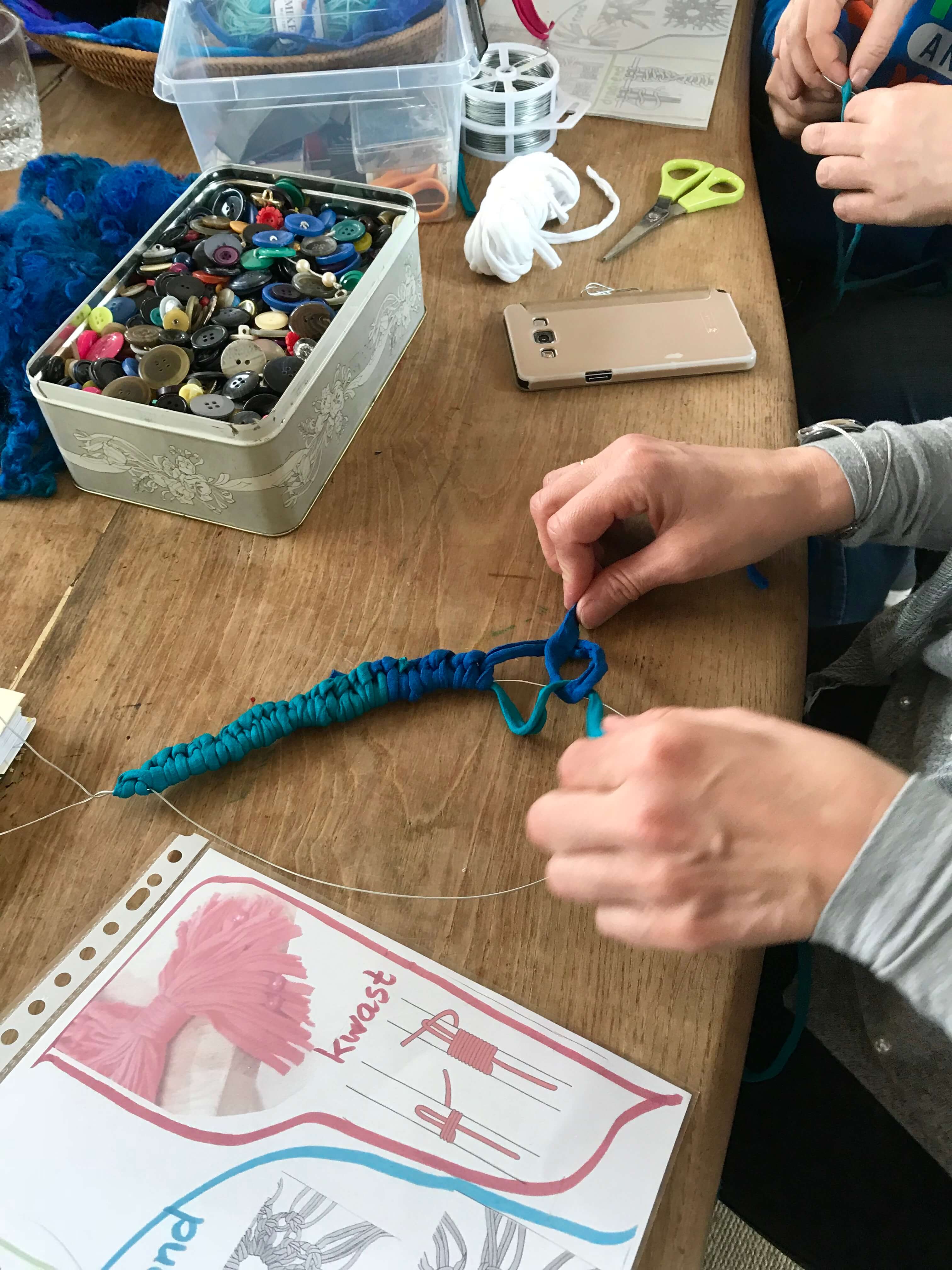 I experimented myself making seaweed and corals using the textile yarn, knotting technique and metal thread. And I felted a sea turtle with a new-learnt technique.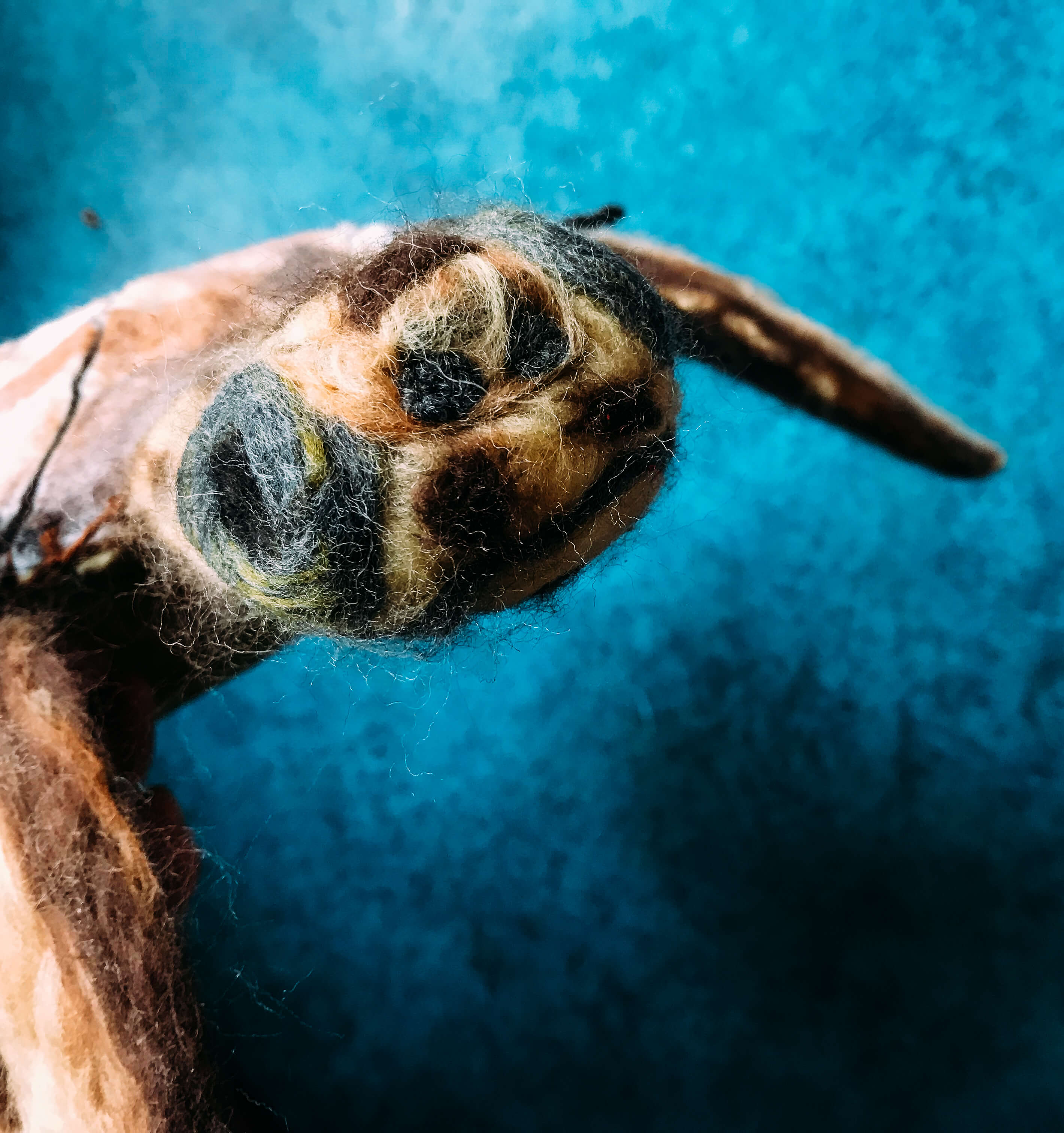 Now, wire mesh is quite ugly in itself. It needed decoration. We experimented with crochet around: it was too much work, using up too much yarn. We found the easiest and fastest way was simply to wind pieces of yarn around it, steadying it with knots around corners. As the wall art piece would be 2 m x 2 m it still meant a lot of work...   and of course the beauty of diversity happened also here: people found different ways, their own way, of doing this!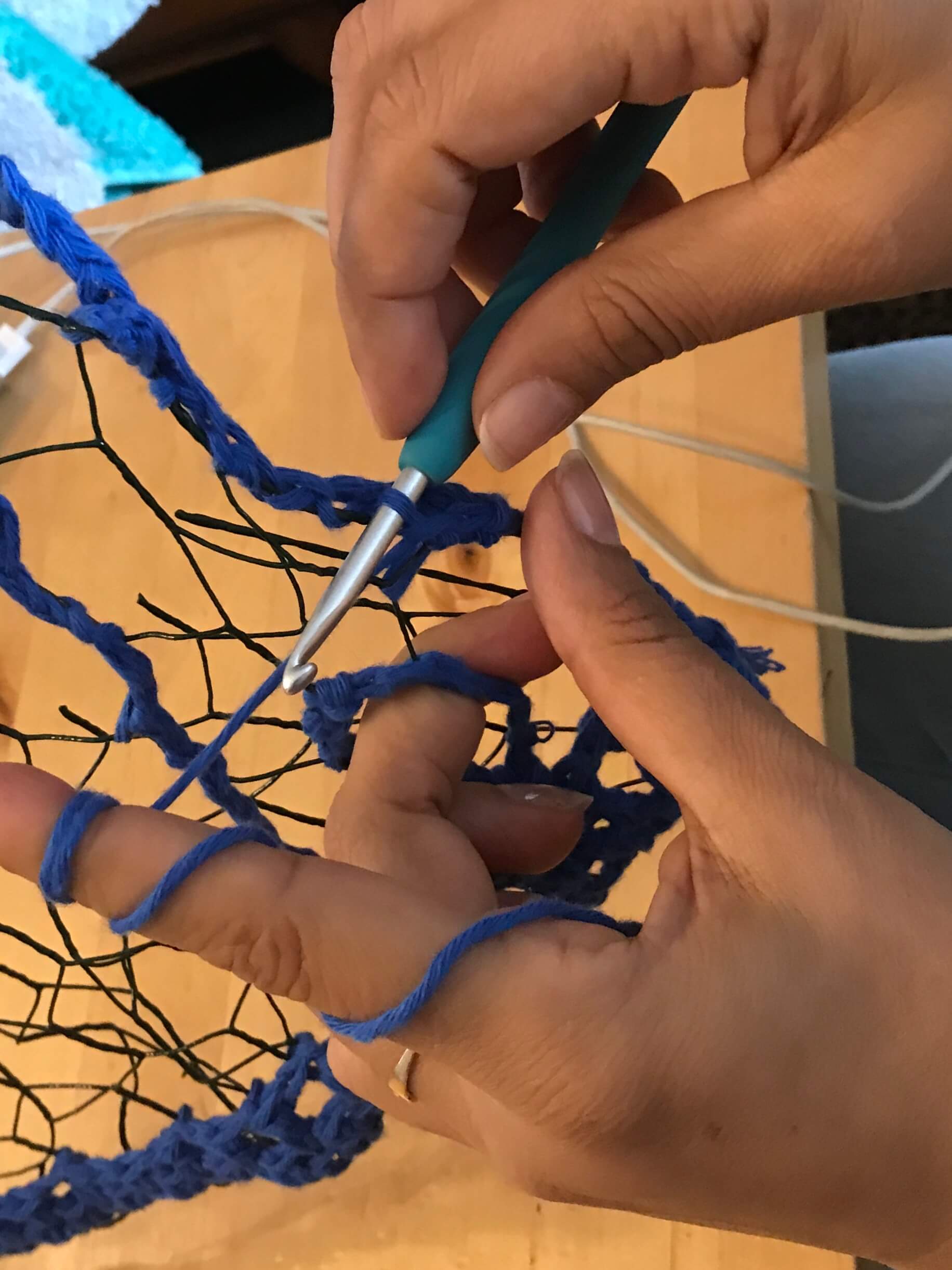 We started decorating the wire mesh with pieces of yarn the day we hosted a large group from a national dutch organisation. I simply rolled out the wire mesh over the long tables and everybody worked where he/ she was sitting. Some people were working on it all day, listening to the various speakers and presentations of the day keeping their hands busy with the yarn on the wire mesh.
It was a good start, but of course far from ready at the end of the day. It took us weeks to cover the whole background. Nearly every day somebody in the community center would roll out the wire mesh on the table and some hands would work some yarn in it. Small hands, big hands, male, female, young, old, black, white, brown, it took a long time to finish it!
I started this project thinking mainly about the inhabitants and vegetation of the seascape, but as time passed, the sea itself, the wire mesh background, became the most important element. Somehow this seemed appropriate, to give the respect to the sea it deserves.
When time started to press, I took my "little handiwork" roll of wire mesh with me when visiting friends and put everyone present to do a bit - sometimes things just need to be finished.
The women of my art class spent our last gathering making beautiful fish in all sort of shapes and colors. The children in the Friday's activity made some small fish out of bubble plastic.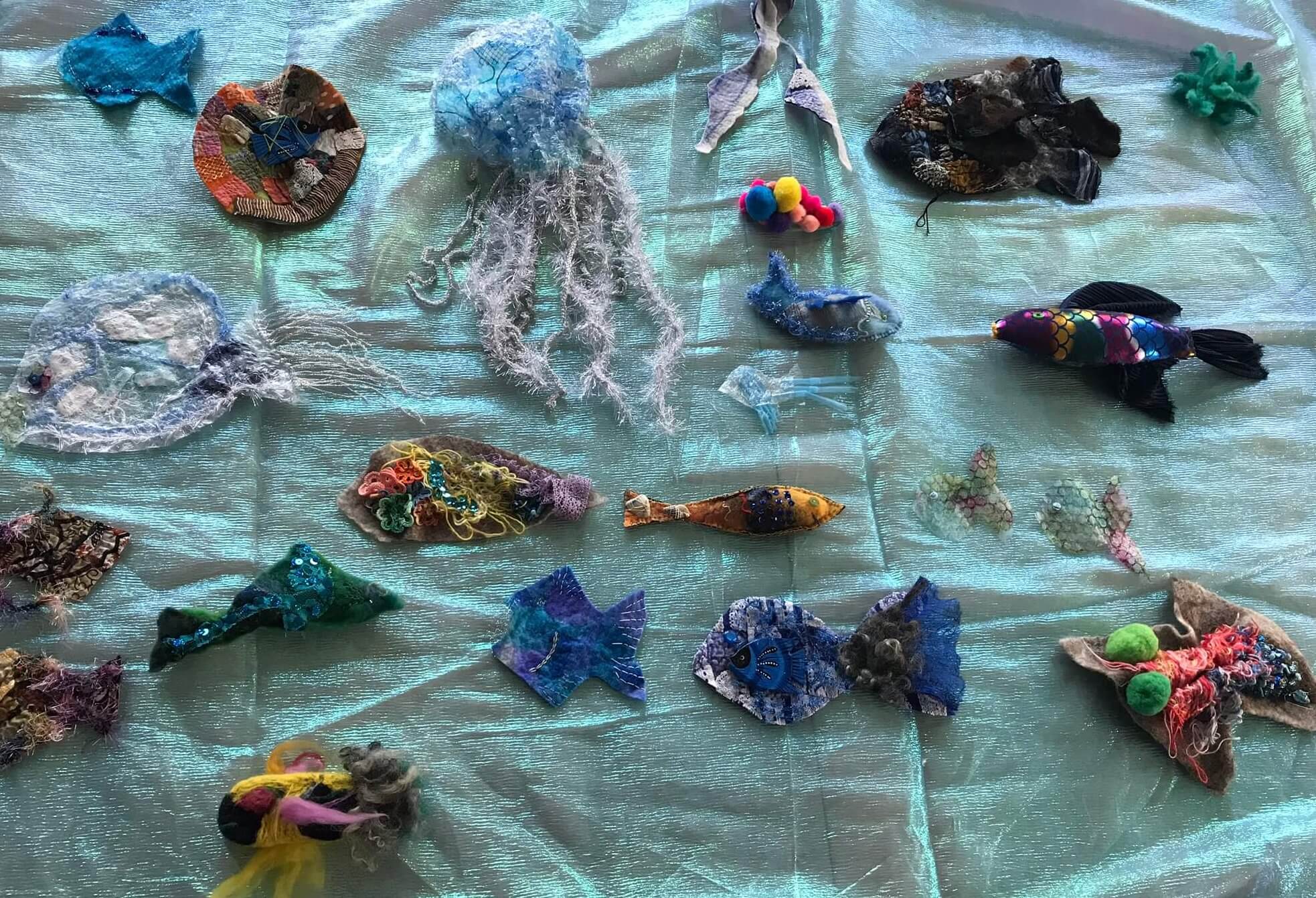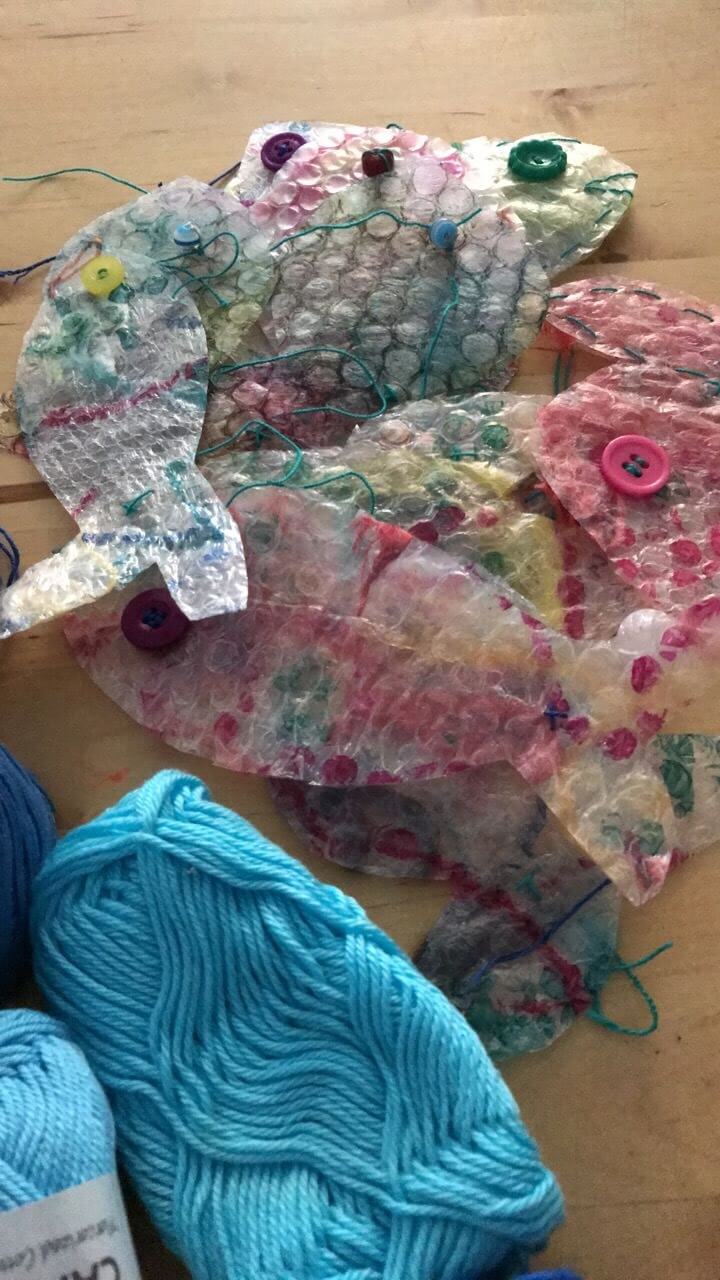 The installation of the whole thing was exciting. It came out beautiful but not yet what I imagined it to be. Maybe because the "wall art" became a temporary "window art", as the Seascape is hanging now in Karibu, another Community Center of Inspiratie Inc. Just until the Family and Child Center Akwaaba will open.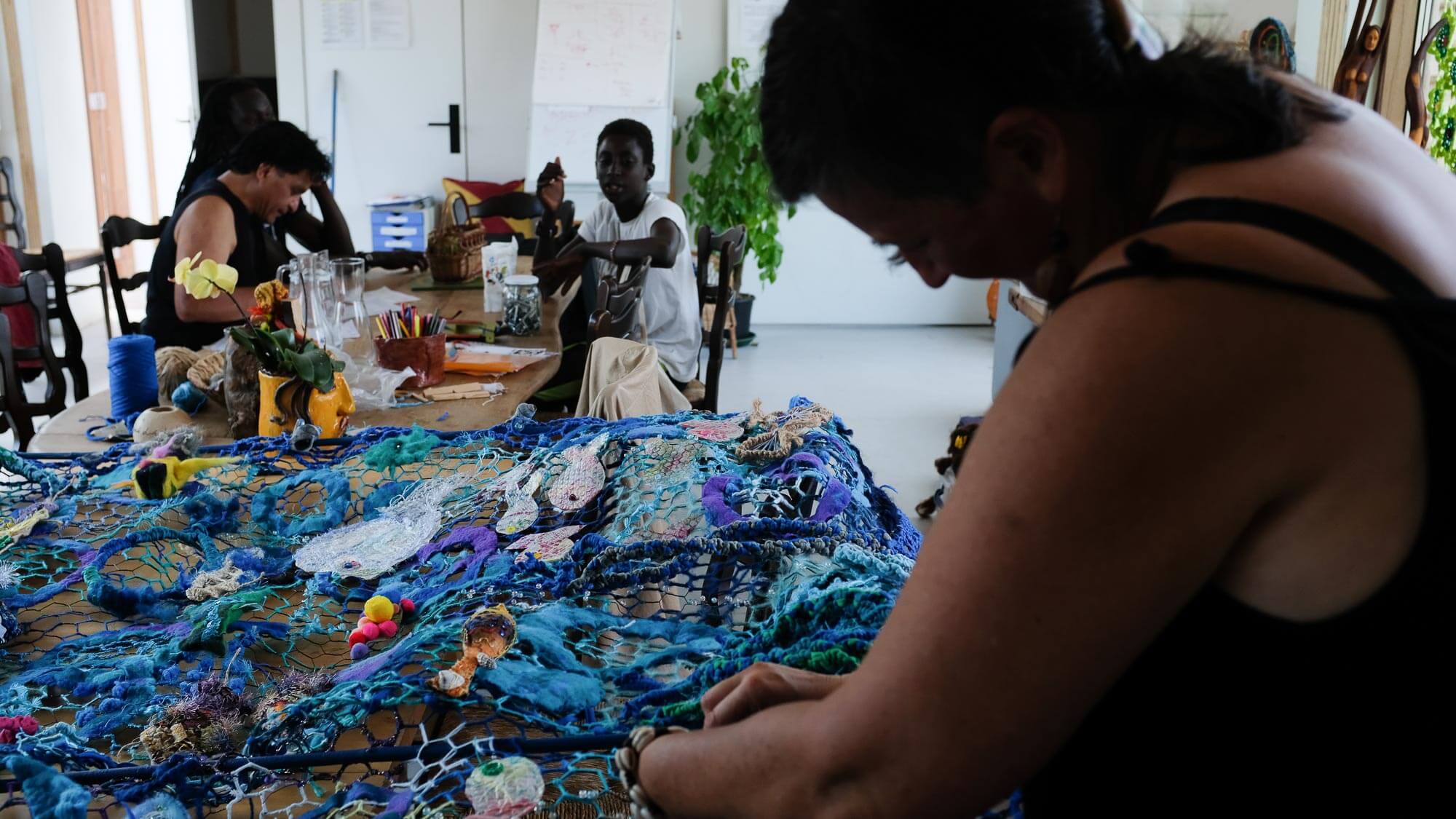 And so many people in this community put in some of their unique talent to create together this wall art. One plus one is definitely way more than two!